Belt and Road International Science Education Innovation and Practice Achievements Exchange Conference Held in Chongqing
6 min read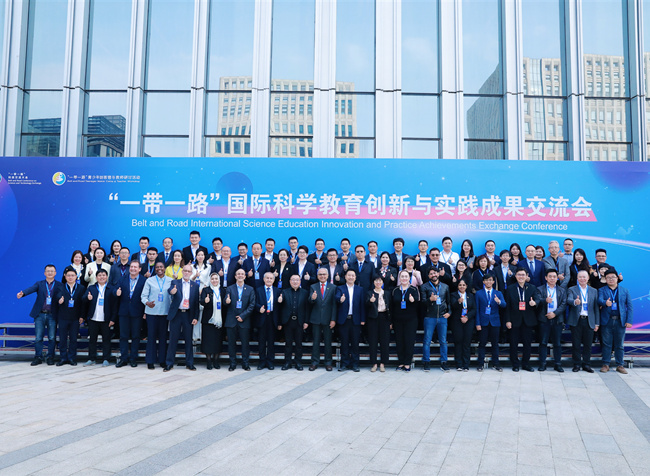 Chongqing – On November 7, the Belt and Road International Science Education Innovation and Practice Achievements Exchange Conference occurred in Chongqing. It was guided by Chongqing Association for Science and Technology and organized by Open Class Magazines. More than 60 science and education representatives from 14 countries attended the conference, including China, Pakistan, Kazakhstan, Thailand, Romania, Malaysia, and Kenya.
Through this conference, which is a key component of the 7th Belt and Road Teenager Maker Camp and Teacher Workshop, the B&R countries will promote science education development and cultural exchanges and enhance the scientific literacy of teenagers. Ma Ranxi, Deputy Director of the Publicity Department of the CPC Chongqing Municipal Committee; Prof. Manzoor Hussain Soomro, former President of ECO Science Foundation; Niu Jie, Second-level Inspector of Chongqing Association for Science and Technology, and Yang Feng, Deputy Director of the International Division at the Teenager Science and Technology Center, China Association for Science and Technology, attended the event and delivered speeches.
Yang Feng expressed gratitude to the conference for bringing science education institutions and schools from B&R countries together in Chongqing to share insights and cooperation ideas and wished attendees to use the platform effectively to facilitate more fruitful cooperation.
Chongqing is a city of imagination, which coincides with the innovation spirit in science education, according to Ma Ranxi. He hopes the conference may provide more constructive suggestions for developing international science education.
According to Prof. Manzoor Hussain Soomro, the Belt and Road Initiative has brought us together to discuss a better future for international science education. Young people are the key to a better future for any country. As artificial intelligence technology develops rapidly, international science education requires continuous innovation in thinking, technology, and organization to develop teenagers' analytical capacities and critical thinking.
According to Niu Jie, science education plays a vital role in enhancing national competitiveness in science and technology, cultivating innovative talents, and raising scientific literacy. As part of its important mission, the Chongqing Association for Science and Technology will serve the central task and general strategies, empower development with science and technology, and comprehensively enhance scientific and technological cooperation and exchanges along the Belt and Road. Using its resources, the association aims to foster new and greater contributions to scientific and technological innovation, the development of a leading city in talents and a science and technology center in western China, and the development of an innovation center and new Chongqing brands.
Experts exchange ideas on international science education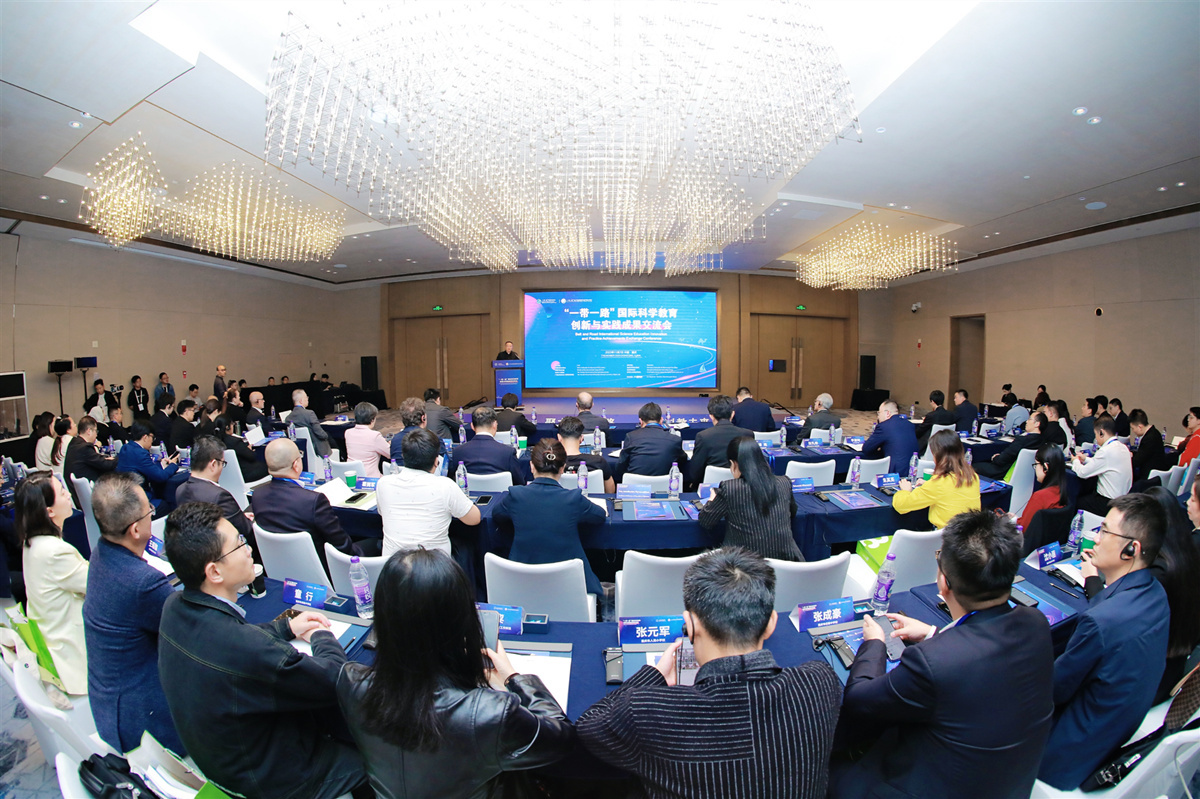 In the context of communication and international science education, five experts presented professional reports: Luo Yuanxin, Executive Dean of the National Elite Institute of Engineering, Chongqing University; Dr. Ganigar Chen, Vice President of the National Science Museum Thailand; Li Xiaoke, Principal of Chongqing Bashu Secondary School; Dr. Jacqueline Alice Akinyi Kado, Executive Director of the Network of African Science Academies; and Dr. Ken Silburn, President of the Metropolitan South West Science Teachers Association.
Luo Yuanxin has presented a new idea for international science education in presenting the university's path of cultivating leading talents in product innovation who apply a systematic design- and engineering-oriented approach to thinking in the Mingyue Science and Technology Innovation Experimental Class, which is the test field for the new engineering education reform at Chongqing University.
Dr. Ganigar Chen presented a series of science education activities carried out by the National Science Museum Thailand, including traditional toy manufacturing and satellite projects. This museum provides students with the opportunity to interact with scientific phenomena in action, cultivate awareness of self-exploration, and enhance their sense of achievement.
Li Xiaoke said that to cultivate future-oriented innovative talents and explore future-oriented science education, we need to deepen the teaching reform of science courses, emphasize the integration of science and humanities, implement interdisciplinary project-based learning, create an inclusive coordinated development system, and strengthen international cooperation.
In 2001, the Network of African Science Academies was established to provide authoritative science-based advice on African policy development. As she stated, science is integral to society, and social development can be boosted only by putting science into practice.
By using the giant sundial iSTEM project, Dr. Ken Silburn demonstrated how to guide and inspire students on the path of science, establishing a reference point for developing future scientists and leaders in a country or region.
In addition, Chen Rong, a member of the Education Working Committee of the CPC Yunyang County Committee, and Deputy Director and Chief Education Inspector of Yunyang County Education Commission, Ou Jian, Principal of the High School Affiliated with Southwest University, Prof. Laurentiu Dan Milici, Vice President-Teenager Program of the Romanian Swan Science Association, and Pan Nan, Principal of Chongqing Bashu Primary School, shared experience and discussed ways to strengthen cooperation and innovation in teenager science education as part of the BRI.
The Chongqing Declaration was released to promote further developments in international science education
The Chongqing Declaration of the Belt and Road International Science Education Innovation and Practice Achievements Exchange Conference was released. In order to achieve the common prosperity of science education, Chongqing will follow the principles of extensive consultation, joint contribution, and shared benefits, ensure that all members are equal participants, contributors, and beneficiaries, and apply the concept of win-win cooperation in the reasonable allocation of science education resources.
Connecting, sharing, and innovating are the real values of education. As a representative of member organizations of the Belt and Road International Science Education Coordinating Committee, Liu Xinzhong, Secretary of the Party Committee and Chairman of Open Class Magazines explained that science education not only imparts knowledge but also cultivates innovative thinking and problem-solving abilities. 
"We will develop a digital platform for international science education based on artificial intelligence technology, activate creative inspiration in science education, share ways and means of science education, provide technical support for digital transformation and cross-border exchanges of science education, as well as support science education discussion and cooperation under the BRI, so as to break time and space, cross national boundaries, and realize shared benefits in science education."
Also, foreign guests could participate in activities with Chongqing characteristics. They visited Dazu Rock Carvings and Chongqing China Three Gorges Museum to learn about local history and culture. Chongqing Zoo, Chongqing Hot Pot, and Liangjiang Night Tour, a tour showcasing Chongqing's lifestyle's charm. Besides, conference attendees were invited to visit the science education exhibition hall of Open Class Magazines.
The 7th Belt and Road Teenager Maker Camp and Teacher Workshop with the theme of "Dream of Future Science, Dedication to a Better World" is the only achievement named after "teenager" and a pragmatic cooperation project among the 458 achievements announced by the 3rd Belt and Road Forum for International Cooperation. From November 5 to 11, it will run in the main venues, including Chongqing and Guangxi, and the sub-venues, such as Xinjiang, Ningxia, Inner Mongolia, and Yunnan. 

It is expected that over 300 teachers and students from 35 countries and regions will attend the event in China, with offline participation reaching a record level.