U of T marks the 3rd anniversary of Flight PS752
3 min read
With red roses, candles and painful recollections, the University of Toronto neighborhood marked the 3rd anniversary of the downing of Ukraine Global Airways Flight PS752 at a ceremony on the St. George campus this 7 days.
The flight was shot down by Iranian armed forces on Jan. 8, 2020, killing all 176 aboard.
The victims bundled 8 U of T neighborhood users: Mohammad Amin Jebelli siblings Mohammad Asadi Lari and Zeynab Asadi Lari Mohammad Salehe and partner Zahra Hasani Mohammad Mahdi Elyasi Mojtaba Abbasnezhad and Mohammad Amin Beiruti.  
The family members of the victims of Flight PS752 held shots of their beloved ones (picture by Polina Teif)
Patricia Houston, vice-dean, professional medical education and learning, at the Temerty College of Medicine, stated (Mohammad) Asadi Lari and Jebelli, who both equally studied in the college, had a incredible influence on their classmates and teachers.
"Mohammad Asadi Lari or 'Moh' as we termed him was known to his friends as a incredibly energetic and reliable scholar," she said at the celebration held Wednesday evening at the Earth Sciences Centre.
"He was involved, even prior to he arrived to Temerty Drugs, in quite a few nationwide and worldwide initiatives, and he was passionate about serving to other folks and youth empowerment."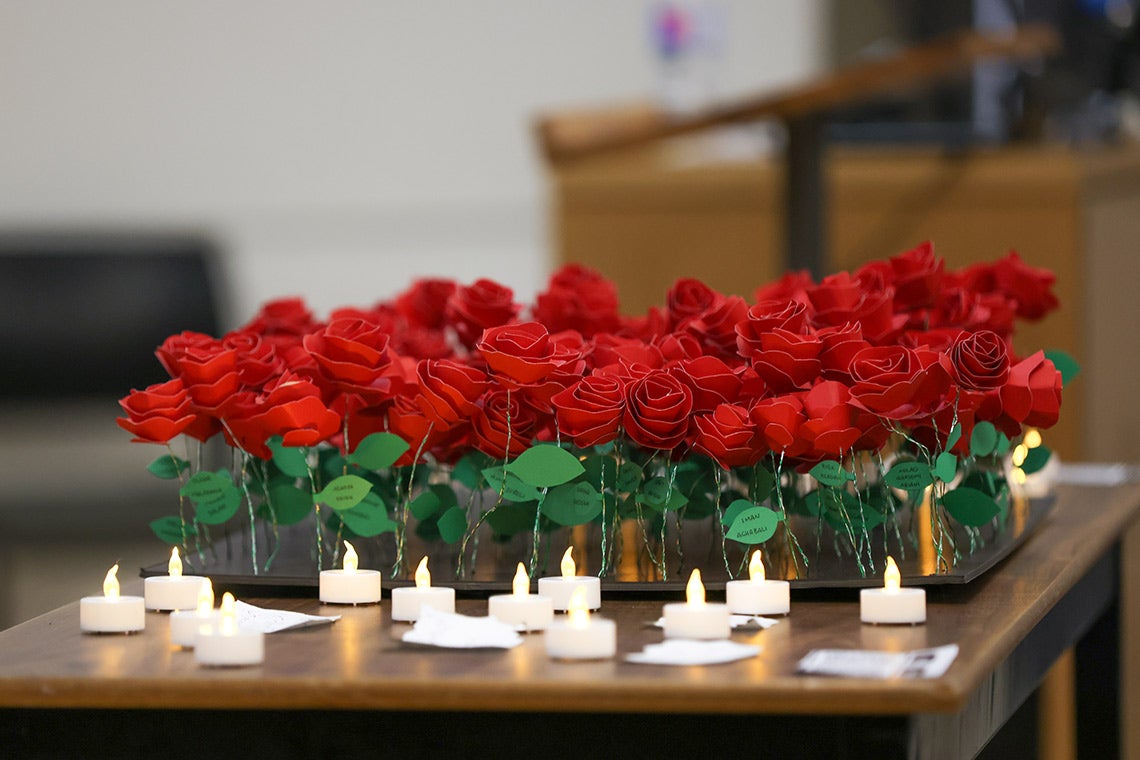 Pink roses and candles were being displayed to honour the 176 victims (picture by Polina Teif)
Asadi Lari was named valedictorian posthumously by the MD/PhD graduates in Temerty's Faculty of Medicine past June. 
His sister, Zeynab, was a U of T Mississauga pupil with a strong admiration for medicine and world-wide health and fitness. Abbasnezhad, meanwhile, analyzed in the School of Utilized Science & Engineering. Hasani was wanting forward to pursuing her graduate reports at U of T. Elyasi was a mechanical engineer who helped train English to refugees. Beiruti and Salehe each researched laptop or computer science in the College of Arts & Science.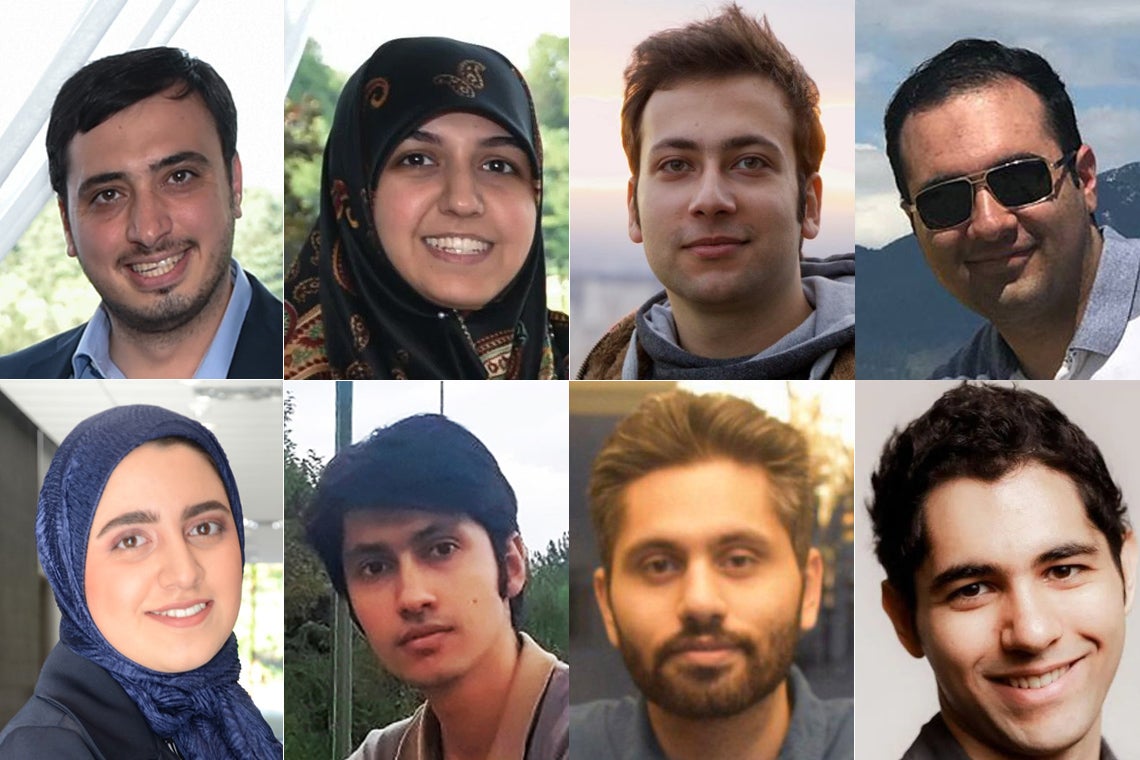 Clockwise from best remaining: Mohammad Salehe, Zahra Hasani, Mojtaba Abbasnezhad, Mohammad Asadi Lari, Mohammad Mahdi Elyasi, Mohammad Amin Jebelli, Mohammad Amin Beiruti and Zeynab Asadi Lari.
The names and ages of all people onboard the flight were being study as their photos were projected on a major display screen.
The U of T Pupils for a Totally free Iran (UTSFI) structured the ceremony to honour the victims and demand from customers accountability for the tragedy. 
"A aircraft with 176 innocent lives was shot down by a govt that does not keep any regard for human existence or human dignity and this crime are not able to be neglected," claimed Faraz Khoshbakhtian, a PhD pupil in the office of mechanical and industrial engineering in the School of Applied Science & Engineering and member of UTSFI.
"These life on the airplane were all aspect of our community."
Some families of the victims had been in attendance and designed speeches to commemorate their beloved ones.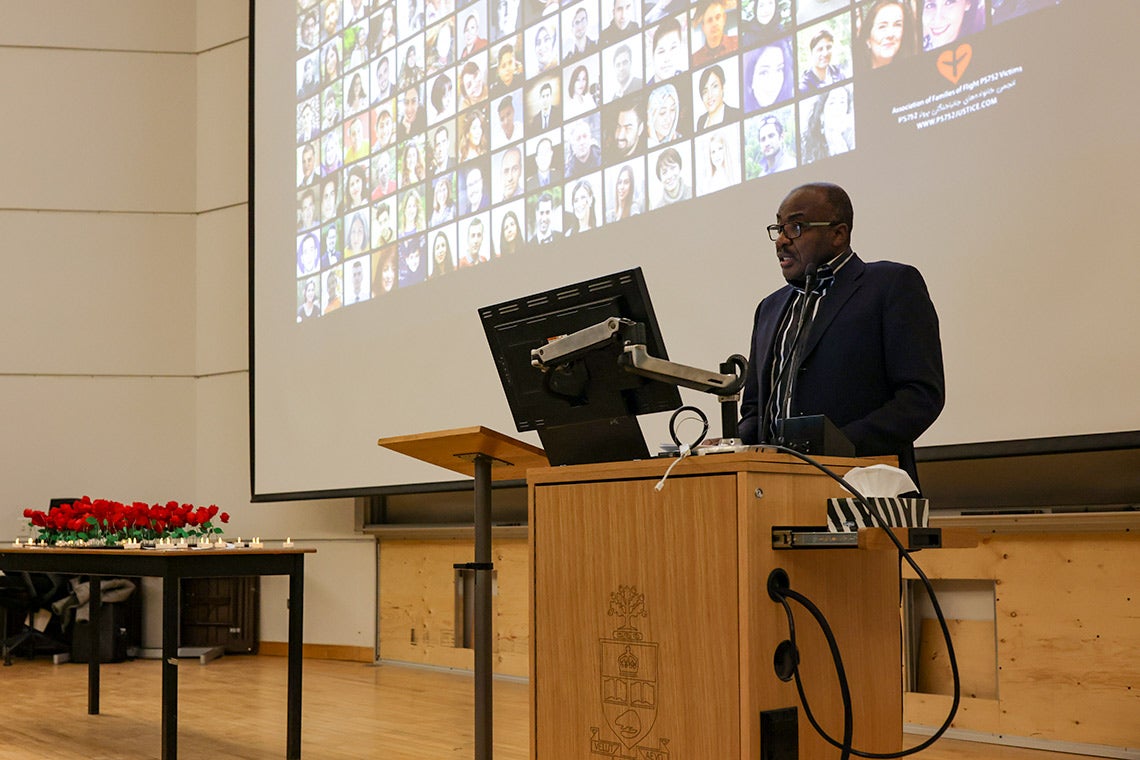 Alexie Tcheuyap, associate vice-president and vice-provost, global university student expertise, delivers remarks at the ceremony (photo by Polina Teif)
Alexie Tcheuyap, affiliate vice-president and vice-provost, global student experience, said he was honoured to be at the function to replicate on the lives missing aboard Flight PS752.
"Across the college, the information was fulfilled with sorrow and shock at these a horrible and senseless tragedy," he stated. "Together we mourn the fatalities of the U of T college students."
In the memory of the victims, U of T proven the Iranian Student Memorial Scholarship fund in 2020 to help global college students from Iran or present learners from any background taking Iranian experiments.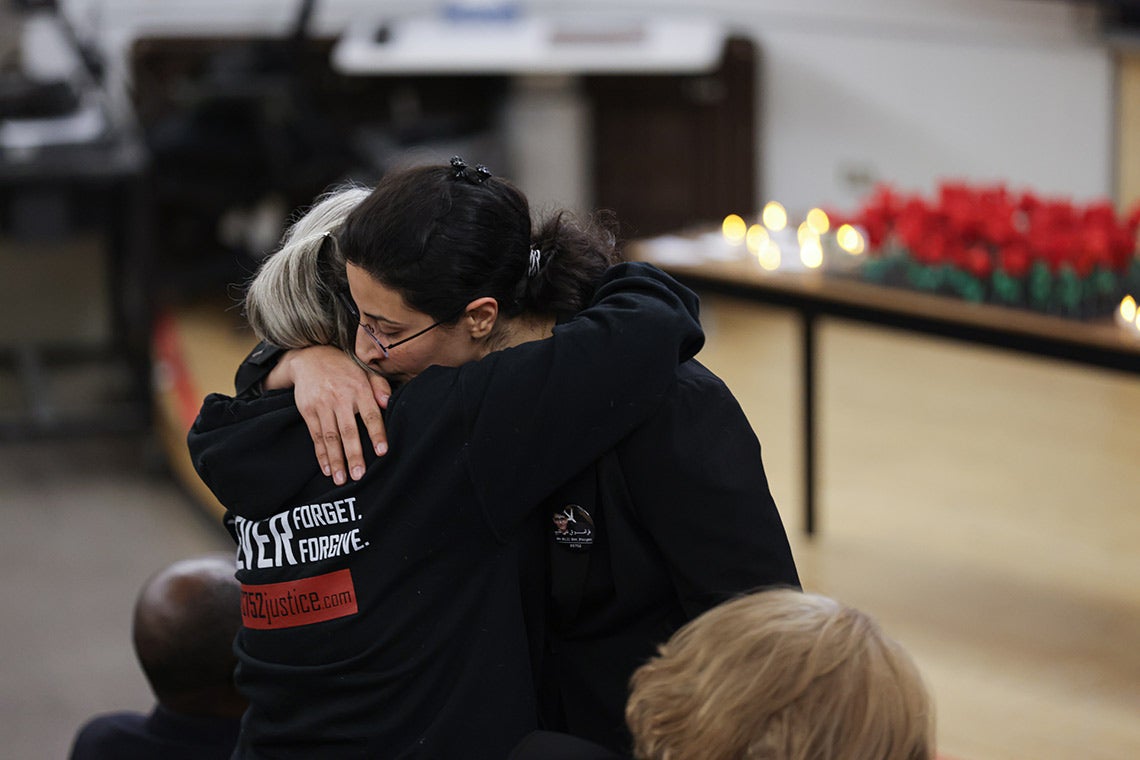 The attendees comforted each individual other in the course of the somber ceremony (photo by Polina Teif)
Melanie Woodin, dean of the Faculty of Arts & Science, claimed those people onboard the doomed airliner "had their life ahead of them."
"At the School of Arts & Science, we've normally had a specific relationship and link with students from the Iranian local community," claimed Woodin.
"That working day, two of our computer system science PhD students – Mohammad Amin Beiruti and Mohammad Salehe – lost their life. It was heartbreaking and tough to appear to conditions with the simple fact that these promising young minds comprehensive of ambition and vigour are no for a longer period able to satisfy their goals."